Relationship Coffee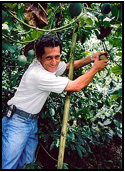 Jorge at his farm, El Crucerito
The terminology of coffee today can be overwhelming. Fair Trade, Organic, Shade Grown, Bird Friendly, Rainforest Alliance and many, many more may confuse you, and your retail customers.

Everyone has a right to the causes & philosophies they support. Our philosophy about the coffees we purchase started in 1993 when our founder made the decision to roast beans. The terms mentioned above did not even exist in 1993. Even so, the quality of coffee varied as much back then as it does today.

Our philosophy is quite simple: Source the very best beans at a price that benefits everyone along the supply chain.

None of the terms above guarantee quality in the cup. This is important to understand. If a coffee is Organic and Shade Grown it simply means it met the criteria for those designations. It may or may not be great in the cup. Farmers pay for each and every designation a coffee bears. This adds to the cost of the product, but not necessarily the quality.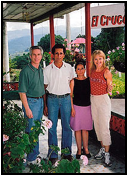 Owners Randy & Mary Adamy with Jorge & Silvia

At O'Henry's we pay premium prices for premium beans. Farmers should not be rewarded for sub-standard products at premium prices. Our best example of how the relationship can work is our program with Finca (farm) El Crucerito in the Valle de Cauca region of Colombia. We are entering our 4th year with Jorge and Silvia Garces Saldariagga and their farm. We were the first ones in this entire region of Colombia to purchase the entire crop of one farmer. We paid a very high premium for their coffee (way above "fair trade") because the coffee merited the price. The relationship continues.

Our trip to Colombia and more about El Crucerito is available by clicking on "El Crucerito".